Russian Weather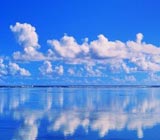 Russia is one of the largest countries in the world and its climate ranges from steppes in the south through humid continental in much of European Russia; subarctic in Siberia to tundra climate in the polar north; winters vary from cool along Black Sea coast to frigid in Siberia; summers vary from warm in the steppes to cool along Arctic coast.
One of the most common myths about Russia, that winter is so cold there, is partly true. Winters can be very cold in Siberia and in the southern European Russia. But the north and northeastern Black Sea usually has mild winters. In the northern and central European Russia, where Saint-Petersburg and Moscow are situated, it's not very cold, though sometimes it might be quite freezing. Generally, the lowest temperature is 5-14 °F in the winter, though it might sometimes (rarely) go as low as minus -13 °F.
Regardless of the fact that it's said the best time to visit Russia is from May till September, the outstanding beauty of Russia and, especially, Russia's two most fascinating cities - Moscow and Saint-Petersburg can and should be enjoyed year round. The winter trip offers you the chance to see the Winter Palace in winter, the setting to the Cold War in the cold, and the great Red Square turned white!
During the winter it's also easier to get tickets to see the Bolshoi and Kirov (Mariinsky) ballets and operas, and there are no crowds at other tourist attractions. And Russian winter is really very beautiful, it's worth seeing it!
Those visiting in winter will want to take along their warmest clothes, boots and hats.
But if you prefer traveling during summer you can be really surprised because summer in Russia can be quite hot, especially in the Southern European Russia.
If you visit St. Petersburg from May to July you can enjoy St. Petersburg's seasonal phenomenon the so-called "White Nights". Every year there are times during this period when the city centre is full of people of all ages throughout the night, enjoying social gatherings in the abundant of outside bars, watching street entertainers or simply strolling along the various canal and river embankments.